Dear Educators,
The Winnemem Wintu Tribe and the Sacred Land Film Project are pleased to offer you this lesson guide for the Run4Salmon, tailored to a 4th grade learning level.
Our relatives, the Nur (Chinook salmon) are the keepers of the water. They bring essential nutrients to the forests and all life that depend on these healthy waterways. However, since the Shasta Dam was built 75 years ago, the Nur have been unable to return to their home waters in our ancestral watershed near Buliyum Puyuuk (Mt. Shasta), California. Now, the only remaining genetic descendants of these salmon are living in New Zealand, where we have been in a relationship with the Maori in creating a plan to bring them back to their home waters.
From 2016 to 2019, Chief Caleen Sisk, the Winnemem Wintu tribe, and the collective support of Indigenous women, activists, and allies have been carrying out a journey that follows the historic pathway of our Nur to lay down prayers for their return, as well as to raise awareness about the policies and issues threatening water, fish, and Indigenous lifeways. This 300-mile trek on foot, bicycle, boat, and horse spans over 2 weeks and travels between the Winnemem Waywacket (McCould River) to the Bay-Delta Estuary at the Ohlone site, Sogorea Te' (Glen Cove, Vallejo, Ca) where we are annually hosted by Ohlone tribal spokesperson for the Confederated Villages of Lisjan, Corrina Gould. After 4 years of traveling this journey upstream, we renewed a 4-year commitment and began to reverse the direction of the prayer journey, following the path of baby salmon to the ocean. This is a ceremonial way of bringing the Nur home.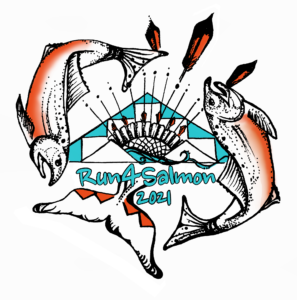 Follow along as the journey moves downstream!
This Run4Salmon 4th Grade Curriculum was designed to give teachers tools to follow the progress of the event. During the Run, participants—including teachers—post daily updates and stories, appropriate for classroom viewing, on social media sites. However, the curriculum can also stand on its own, as the interdisciplinary lessons weave past and present-day Indigenous efforts to preserve and restore land, rivers, culture and salmon. These lessons can be taught in succession or incorporated into social studies and science units throughout the year.
Please note that a high school level lesson plan is available separately as a free PDF download. This Teacher's Guide was developed by the Sacred Land Film Project for our film on the Winnemem Wintu in the Standing on Sacred Ground series.
We hope you and your students will enjoy following the Run4Salmon and will use these resources to enrich your classroom lessons.
RUN4SALMON CURRICULUM
Run4Salmon 4th Grade Curriculum Lessons